History of 5 Pin Bowling
Bowling in its primitive form, is over 7000 years old. Sir Flinders Petrie, a professor of Egyptology at the University of London, found the origins of bowling, a complete set of pins and balls, in a large tomb in Egypt dating back to 5200 BC.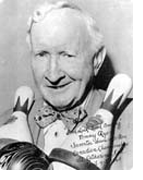 The American form of bowling, TENPIN BOWLING (circa 1840) came to Canada in the 1880's. In 1905, a billiard academy owner, Thomas F. "Tommy" Ryan decided to install Canada's first "regulation" tenpin lanes, a 10 lane setup, in the second storey of the Boisseau Building (over top of Ryrie-Birks Jewellers) in downtown Toronto, Ontario.
Ryan's establishment, known as the Toronto Bowling Club, resembled a southern plantation, with potted palm trees, ceiling fans, string orchestra, piano and an immense lunch counter. Ryan insisted that his establisment was a very elite and private club, catering only to the well-to-do, carriage trade of Toronto society.
Customer complaints about the size and weight of the tenpin bowling balls and the game being far too strenuous, led Ryan to experiment. He had his father whittle down five of the larger tenpins on a lathe, to approximately 3/4 of their original size. He then spaced five of these pins equally on the 36" (91cm) tenpin triangle. Ryan took a hand sized hard rubber ball (approximately 5" (12.7cm) in diameter and 3 1/2 lbs. (1.6kg) in weight) and rolled the ball down the tenpin lane at the five pins.
Thus in 1909, the original sport of 5 pin Bowling was born. Even though many changes have taken place through the years, the original concept remains and is enjoyed in hundreds of modern bowling centres by millions of Canadian each year.